Biography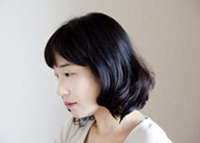 After graduating from Musashino Art University with B.A Degree in Imaging Arts&Sciences (Tokyo, Japan) , I studied at the institute of Image Forum between 1997 and 1999. I have been working on films, videos, video installations and photo works since 1996 and then organized some screening events and exhibitions. My art works have been screened at film/video festivals and museums in over 15 countries.
From 2005 to 2006, I stayed at Cité Internationale des Arts in Paris after receiving "Paris prize" from Musashino Art University and support from Nomura Cultural Foundation and Japanese Government's Study Program instituted by Agency for Cultural Affairs for Promising Artists and Art Fellowships.
Returning to Japan In 2006, I am hard at work now in Tokyo.
Prize
2004
Musashino Art University Paris prize (Musashino Art University/Tokyo, Japan)
2003
9th annual Media City Festival (Windsor, Canada) Second prize
2001
Images Festival (Toronto, Canada) The Best International Film Award
7th annual Media City Festival (Windsor, Canada) Encouragement prize
2000
The 5th Contest for the Best Contemporary Art Work (Tokyo,Japan) Encouragement prize
6th annual Media City Festival (Windsor,Canada) Grand Prize
1999
Viper International Festival for Film and New Media (Luzern, Switzerland) Honorary Mention prize
Chofu Film Festival Experimental Film Competition(Tokyo, Japan) Encouragement prize
Fellowship
2008
Agency for Cultural Affairs 'The core Media Art Center Creation Model Project - Support for Young Creators' (Japan) *"5 frames" (5-channel video installation)
2004
Musashino Art University Paris prize (Japan) *Stayed at Cité Internationale des Arts in Paris
2005
The Nomura Cultural Foundation fellowship (Japan)
Japanese Government Study Program for Promising Artists and Art Fellowships (Japan)
Collection
Tokyo Metropolitan Museum of Photography (Tokyo, Japan)
The National Museum of Art, Osaka (Osaka, Japan)
Tokyo Polytechnic University Library (Kanagawa, Japan)
Projections & Exhibitions (selected)
2022
'Other Rooms, Shiho Kano/Akiko Hashimoto' (Tokyo, Japan)
2021
'Homed Body:Performance, Conformity, and Madness.'(KyCAD/USA)
'Museum and Video - Screening and Preservation of Video Art' (The National Museum of Art, Osaka/Japan)
2018
The 35th Busan International Short Film Festival (Busan, Korea)
2016
"Recollecting the days and moments: Japanese Experimental Cinema" (Keefe Campus Center at Amherst College/USA)
Sculpture Project in Kamakura 2016 'at the Kamakura Annex' (The Museum of Modern Art, Kamakura/Kanagawa,Japan)
2014
"REARRANGEMENT OF FRAMES AND MEMORIES: JAPANESE EXPERIMENTAL CINEMA, 1970S TO TODAY" (Paramount Center/USA, Colgate University/USA)
"To the Sleepy Rhythm of a Hundred Hours" (Mostra de Cinema Periférico/A Coruña, Spain)
2013
Japanese Film Festival at SUNYIT 'Public Space/Private Room' (The Student Center, SUNY Institute of Technology at Utica-Rome/NY, USA)
2012
Toshio Matsumoto Omnibus Movie Collaboration (Image Forum/Tokyo, Kuma Museum of Art/Ehime, Takamatsu City Museum of Art/Kagawa, Kyoto)
Ann Arbor Film Festival "In Praise of Shadows : Japanese Avant-Garde Films of the 1990s & 2000s" (USA)
2011
"Tension vs. Meditation : Contemporary Japanese Animation" (CineCycle/Toronto, Canada)
2010
BAC! 2010: TIME 11.0 Edition of Barcelona Art Contemporary Festival "JAPAN AUDIOVISUALS" (Spain)
"Sense of Reality" (Water and Sculpture Hills ICHIHARA/Chiba)
33rd Portland International Film Festival (USA)
2009
Solo Exhibition "in the room / frame" (Café&Galería PARADA/Tokyo)
The 14th Art Film Festival (Aichi Arts Center/Nagoya, Japan)
YAMAGATA International Documentary Film Festival 2009 / YIDFF Network Special Screenings (Yamagata, Japan)
2008
"IMAGINATION : Vision, Perception and Beyond" (Tokyo Metropolitan Museum of Photography/Tokyo, Japan)
"Mansaku Itami and Kusatao Nakamura" (Kuma Museum of Art/Ehime, Japan)
"SEVEN NIGHTS, SEVEN LIGHTS" (Tokyo Metropolitan Museum of Photography/Tokyo, Japan)
2007
Microwave International New Media Arts Festival (Hong Kong)
"couleur, cadre, lumiere" (The Centre Pompidou/Paris, France)
Solo Exhibition (Space Kobo&Tomo/Tokyo, Japan)
"SFAI Film Salon: The Soft Escape - Films of Stan Brakhage, Henry Hills, Peter Hutton, Shiho Kano, and Michael Robinson" (San Francisco Art Institute/USA)
2006
"Brunch des cultures étrangères" (Forum des instituts culturels étrangers) (Cinéma le Balzac/Paris, France)
"Cinéma expérimental japonais des années 60-70 à nos jours" (Maison de la culture du Japon à Paris/Paris, France)
"PREVIEW – SINGLE CHANNEL WORKS / 2002-2005" (MNAC The National Museum of Contemporary Art/Bucharest)
2005
Solo Screening&Exhibition (Indie Forum/Gallery 175/Seoul, Korea)
Solo Screening (UPLINK FACTORY/Tokyo, Japan)
The 34th International Film Festival Rotterdam (Rotterdam, Netherlands)
2004
6ème Festival des Cinémas Différents de Paris (Paris, France)
50th Robert Flaherty Film Seminar "Inspired Filmmaking" (NY, USA)

2003
"One shot film works of Sakumi Hagiwara and Shiho Kano" (Image Forum/Tokyo, Japan)
WRO 03 the 10th International Media Art Biennale GLOBALICA (Poland)
The 32nd International Film Festival Rotterdam (Rotterdam, Netherlands)
2002
Viper International Festival for Film and New Media (Basel, Switzerland)
Toronto International Film Festival "Wavelength programme" (Toronto, Canada)
"c'est pas du cinema!" (Le Fresnoy National Studio of Contemporary Arts/France)
The 31st International Film Festival Rotterdam (Rotterdam, Netherlands)
2001
Yamagata International Documentary Film Festival "New Asian Currents Special" (Yamagata, Japan)
"Next generation / Art contemporain d'Asie" (Paris, France)
International Short Film Festival Oberhausen (Germany)
Images Festival (Toronto, Canada) The Best International Film Award
7th annual Media City Festival (Windsor, Canada) Encouragement prize
Solo Exhibition (Moris Gallery/Tokyo, Japan)
The 30th International Film Festival Rotterdam (Rotterdam, Netherlands)
2000
The 5th Contest for the Best Contemporary Art Work (Tokyo, Japan) Encouragement prize
6th annual Media City Festival (Windsor, Canada) Grand Prize
1999
Viper International Festival for Film and New Media (Luzern, Switzerland) Honorary Mention prize
European Media Art Festival (Osnabruck, Germany)
Chofu Film Festival Experimental Film Competition(Tokyo, Japan) Encouragement prize
Projections & Exhibitions
2022
'Other Rooms, Shiho Kano/Akiko Hashimoto' (Tokyo, Japan)
2021
'Homed Body:Performance, Conformity, and Madness.'(KyCAD/USA)
Winnipeg Underground Film Festival (Winnipeg, Canada)
'Museum and Video - Screening and Preservation of Video Art' (The National Museum of Art, Osaka/Japan)
'Atelier de L'etna:CJC Remix' (Paris, France)
2018
The 35th Busan International Short Film Festival (Busan, Korea)
2016
"The Luminous"(Uplink/Toktyo)
"Altérité : Sensibilia V - -exhibition : performance " (Café&Galería PARADA/Tokyo)
"Recollecting the days and moments: Japanese Experimental Cinema" (Keefe Campus Center at Amherst College/USA)
Sculpture Project in Kamakura 2016 'at the Kamakura Annex' (The Museum of Modern Art, Kamakura/Kanagawa,Japan)
2014
"REARRANGEMENT OF FRAMES AND MEMORIES: JAPANESE EXPERIMENTAL CINEMA, 1970S TO TODAY" (Paramount Center/USA, Colgate University/USA)
"To the Sleepy Rhythm of a Hundred Hours" (Mostra de Cinema Periférico/A Coruña, Spain)
2013
S-8 Film Festival 2013 Spring (Space neo/Tokyo)
"SPRIGON" (Café&Galería PARADA/Tokyo)
Japanese Film Festival at SUNYIT (The Student Center, State University of New York, Institute of Technology at Utica/Rome/NY, USA)
2012
Toshio Matsumoto Omnibus Movie Collaboration(Image Forum/Tokyo, Kuma Museum of Art/Ehime, Takamatsu City Museum of Art/Kagawa, Kyoto)
Ann Arbor Film Festival "In Praise of Shadows : Japanese Avant-Garde Films of the 1990s & 2000s" (USA)
2011
2011-2012 KINEMA NIPPON: MOVING IMAGES FROM JAPAN "Nippon Re-Read II" (Anthology Film Archives/NY, Light Cone/Paris, Image Forum/Tokyo, etc.)
"Tension vs. Meditation : Contemporary Japanese Animation" (CineCycle/Toronto, Canada)
Nadiff Window Gallery vol.11 "Diffuse Reflection Screen-Time Travelerx5's Theory of Time-" (NADiff a/p/a/r/t/Tokyo)
2010
BAC! 2010: TIME 11.0 Edition of Barcelona Art Contemporary Festival "JAPAN AUDIOVISUALS" (Spain)
"Time TravelerX5" (AOSANDO Art Fair (JINNAN 1CHOUME DEPARTMENT STORE H.P.FRANCE/Tokyo)
"Sense of Reality" (Water and Sculpture Hills ICHIHARA/Chiba)
Image Forum Festival 2010 (Tokyo, Kyoto, Fukuoka, Nagoya, Yokohama)
33rd Portland International Film Festival (USA)
"seeing & traveling" (Image Forum/Tokyo)
2009
Solo Exhibition "in the room / frame" (Café&Galería PARADA/Tokyo)
The 14th Art Film Festival (Aichi Arts Center/Nagoya, Japan)
The Lange Nacht der Koelner Museen(Cologne, Germany)
YAMAGATA International Documentary Film Festival 2009 / YIDFF Network Special Screenings (Yamagata, Japan)
ASK Video Festival 2009 (ask? art space kimura/Tokyo, Japan)
Hors Piste Japon (L'Institut Franco-Japonais de Tokyo/Tokyo, Japan)
"Land of the rising Senses" (Scheltema Centrum voor Actuele Kunst /Leiden, Netherlands)
2008
"IMAGINATION : Vision, Perception and Beyond" (Tokyo Metropolitan Museum of Photography/Tokyo, Japan)
The 13th Art Film Festival (Aichi Arts Center/Nagoya, Japan)
Digital Art Festival Tokyo 2008 (Tokyo, Japan) *Live performance/image:Shiho KANO, sound:Yurihito WATANABE, Sumihisa ARIMA
"altérité : sensibilia iii" (Café&Galería PARADA/Tokyo, Japan)
"Mansaku Itami and Kusatao Nakamura" (Kuma Museum of Art/Ehime, Japan)
ASK? Film Festival 2008 (art space kimura ASK?/Tokyo, Japan)
visual philosophy salon vol.0 "Not cinema, not contemporary art, so what is 'new visual art'?" (Apple Store Ginza/Tokyo, Japan)
"SEVEN NIGHTS, SEVEN LIGHTS" (Tokyo Metropolitan Museum of Photography/Tokyo, Japan) *Live installation/image:Shiho KANO, sound:Yurihito WATANABE, Sumihisa ARIMA
2007
Festival Licences (Paris, France)
"altérité : sensibilia ii" (Café&Galería PARADA/Tokyo, Japan) *Live performance/image:Shiho KANO, sound:Yurihito WATANABE
"DIVINA CONTEMPLACION" (Espacio Fundacion Telefonica/Buenos Aires, Argentina)
Microwave International New Media Arts Festival (Hong Kong)
"couleur, cadre, lumiere" (The Centre Pompidou/Paris, France)
Solo Exhibition (Space Kobo&Tomo/Tokyo, Japan)
"Screening about the Water – from Lumière to the Pressent Day" (The Yokohama Museum of Art/Kawanagawa, Japan)
Film & Talk Show Series "Zigzag Sight Line" (void+/Tokyo, Japan)
"SFAI Film Salon: The Soft Escape - Films of Stan Brakhage, Henry Hills, Peter Hutton, Shiho Kano, and Michael Robinson" (San Francisco Art Institute/USA)
"Hermetic Alchemy : New experimental film and video from Japan" (University of Wisconsin Milwaukee, Union Theatre/USA)
2006
"altérité : sensibilia" (Café&Galería PARADA/Tokyo, Japan) *Live performance/image:Shiho KANO, music:Ensemble Inaudible (Yurihito WATANABE, Shinichiro YAMAZAKI, Tomoki TAI)
"Japanese Experimental Film Series" (The Council on East Asian Studies at Yale University/NY, USA)
"Media City Program" (Espacio Fundacion Telefonica/Buenos Aires, Argentina)
"Brunch des cultures étrangères" (Forum des instituts culturels étrangers) (Cinéma le Balzac/Paris, France)
"Cinéma expérimental japonais des années 60-70 à nos jours" (Maison de la culture du Japon à Paris/Paris, France)
Hamilton Collage (NY, USA) *Lecture
California Institute of the Arts (LA, USA) *Lecture
"PREVIEW – SINGLE CHANNEL WORKS / 2002-2005" (MNAC The National Museum of Contemporary Art/Bucharest)
"Douche Electrique&Cinémathèque de Bretagne présentent de la télétoxie" (Brest, France)
2005
Rencontres Internationales Paris/Berlin (Paris, France)
"Multiprises 2" (Cité Internationale des Arts/Paris, France)
"Cinéma expérimental japonais des années 60-70 à nos jours" (Collectif Jeune Cinéma/Paris, France)
25FPS/Festival of Short Experimental Film and Video (Zabreb, Croatia)
Solo Screening&Exhibition (Indie Forum/Gallery 175/Seoul, Korea)
Solo Screening (UPLINK FACTORY/Tokyo, Japan)
The 34th International Film Festival Rotterdam (Rotterdam, Netherlands)
2004
6ème Festival des Cinémas Différents de Paris (Paris, France)
"Edge in Cafe vol.3 @ UPLINK FACTORY" (UPLINK FACTORY/Tokyo, Japan)
"Cinema and Intermedia" (The Department of Cinema and Electronic Arts at Roma Tre University/Roma, Italy)
"Invideo" (Milan, Italy)
50th Robert Flaherty Film Seminar "Inspired Filmmaking" (NY, USA)
Indie Forum (Seoul, Korea)
Images Festival (Toronto, Canada)
"Enabled Screen" (Takashi ISHIDA, Shiho KANO, Yuiko MATSUYAMA) (art space kimura ASK?/Tokyo,Japan)
10th annual Media City Festival (Windsor, Canada)
2003
Festival International du Film d'Amiens (France)
"Breakthroughs : New Experimental Films from Asia" (Smithsonian Institution Freer and Sackler Galleries/Washington, DC, USA)
"One shot film works of Sakumi Hagiwara and Shiho Kano" (Image Forum/Tokyo, Japan)
Hull International Short Film Festival (UK)
"Japanese Experimental Film&Video" (Takahiko IIMURA, Shiho KANO, Chieko TAIRA, Rie NAKAOKA) (Millennium/NY, USA)
Indie Forum (Seoul, Korea)
The Courtisane Festival (Gent, Belgium)
"Third Text: images + media" (Hong Kong)
"CITYZOOM" (Bremen, Germany)
WRO 03 the 10th International Media Art Biennale GLOBALICA (Poland)
Ann Arbor Film Festival (Ann Arbor ,USA)
(K-RAA-K)3 Festival (Belgium)
France tour (France)
9th annual Media City Festival (Windsor, Canada) Second prize
The Portland International Film Festival (Portland, USA)
The 32nd International Film Festival Rotterdam (Rotterdam, Netherlands)
2002
4ème Festival des Cinémas Différents de Paris (Paris, France)
Onion City Film and Video Festival (Chicago, USA)
"VISION-RESET" (Sapporo, Japan)
Viper International Festival for Film and New Media (Basel, Switzerland)
Toronto International Film Festival "Wavelength" (Toronto, Canada)
Indie Forum2002 (Seoul, Korea)
"c'est pas du cinema!" (Le Fresnoy National Studio of Contemporary Arts/France)
San Francisco Cinematheque (San Francisco, USA)
The 31st International Film Festival Rotterdam (Rotterdam, Netherlands)
2001
"Art Films Japan/Canada" (Uplink Factory/Tokyo, Japan)
3ème Festival des Cinémas Différents de Paris (Paris, France)
"THIS MORN NO BIRDS CRY" (Miyabi TANIGUCHI, Masae TANABE, Shiho KANO) (Gallery Den/Tokyo, Japan)
Yamagata International Documentary Film Festival "New Asian Currents Special" (Yamagata, Japan)
Onion City Film and Video Festival (Chicago, USA)
"Next generation / Art contemporain d'Asie" (Paris, France)
International Short Film Festival Oberhausen (Germany)
Images Festival (Toronto, Canada) The Best International Film Award
7th annual Media City Festival (Windsor, Canada) Encouragement prize
Solo Exhibition (Moris Gallery/Tokyo, Japan)
The 30th International Film Festival Rotterdam (Rotterdam, Netherlands)
2000
"The Eve of Image -young Japanese image makers of this century" (Yokohama museum, Kanagawa /Moris Gallery, Tokyo, Japan)
The 5th Contest for the Best Contemporary Art Work (Tokyo, Japan) Encouragement prize
"Screening Japan" (Copenhagen, Arhus, Denmark)
"Films From Japan" Tour(USA, UK, Netherlands, Switzerland, etc.)
6th annual Media City Festival (Windsor, Canada) Grand Prize
1999
Viper International Festival for Film and New Media (Luzern, Switzerland) Honorary Mention prize
European Media Art Festival (Osnabruck, Germany)
Chofu Film Festival Experimental Film Competition(Tokyo, Japan) Encouragement prize